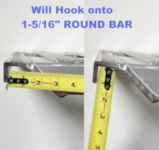 Welcome to Best Aluminum Ramps, where
10 years
of dedicated design and construction experience meets affordable prices!
Our ramps are built with
Serrated Crossbars
for better traction. We also offer a few select ramps with the punched top.
We provide a
1 Year Limited Warranty
against material, workmanship, and defects, not for overloading.
Free Shipping
to the Contiguous United States!
We do not recommended using our ramps for steel tracked vehicles, tractors, skid loaders, forklifts, or pallet jacks.
If you have further questions, you may call or text us at
330-347-8075
thank you.